tiempo-real in Cancun, Mexico
tiempo-real was created in 1998, in Cuba. They had performed in Italy and Cancun, Mexico playing all kinds of music such as latin, jazz, rock caribbean and others.They make a fusion with all these rhythms from rhumba, bolero, cha cha, salsa, cumbia, timba, etc... 'til hip hop, techno and others.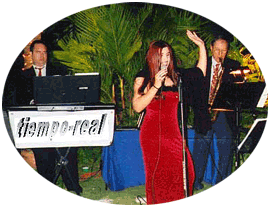 Private party at Coral Gables

tiempo-real is now performing at private events in Miami and Coral Gables.